Missing emails: the eternal mystery. You know you sent it, but they're saying they've not received it. It's a story as old as, err, email! But how to prove the email's been sent and stop getting stuck in the 'I sent it/I didn't get it' loop? 
If you have a recipient telling you that they didn't receive your email, we recommend taking the following steps:
Firstly, investigate the email in your SMTP2GO account on the Reports > Activity page to ensure it was delivered by viewing the delivery information on the Timeline tab. The details displayed here will give you a better insight into what events occurred for the email and you can make sure that it was not bounced, rejected, or encountered any delivery issues.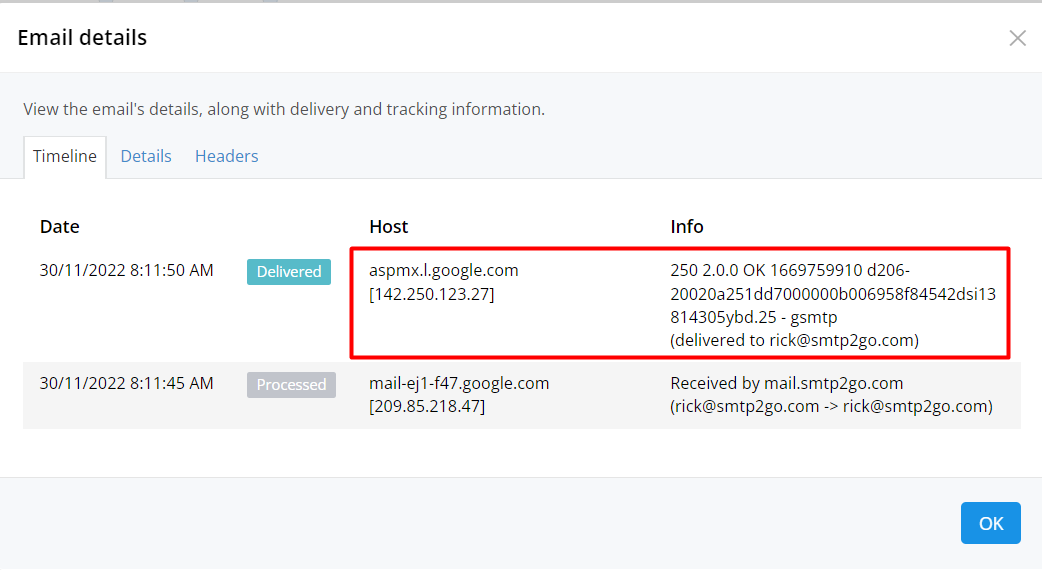 If the email has a Delivered event then this means the recipient's incoming server communicated to us that it has the email. The detail under the Info column for the Delivered event is the confirmation response we receive from the recipient's incoming server confirming that it received the email from us. From that point, it is up to the recipient server what happens with the email.
Secondly, ensure the recipient has checked all mailbox folders in case it was filtered to one other than their inbox (e.g. junk/spam or promotions). If they find the email in one of those folders we recommend they move the email to their inbox to help retrain their mailbox and safelist your email address by adding it to their address book. They may also need to check that the email was not quarantined by their filtering and possibly allow list/safelist our IP addresses.
Standard allow list/safelist guide
Thirdly, if the recipient still cannot locate the email, they will need to carry out further investigation from their side (and may need to contact their incoming email provider) to identify what their incoming server has done with the email. The Delivered confirmation response can be used to track the email as it contains the unique information for the email given by their incoming server.
As the sender, some key tips to ensure you get the best delivery rates include:
Make sure your domain is verified on your Sending > Verified Senders > Sender domains page.

Check your domain is not listed on any blacklists:

MXToolbox

has a handy blocklist check.

You can check how emails will score with spam filters using our

Email Testing tool

(available on plans of 100,000 emails per month and above) or use a service such as

Mail-Tester

. These will help to see if there's anything that could trigger the recipient's spam filtering that will affect delivery.
If you have further questions about missing emails or would like our team to help investigate further, please contact our support team.